The Guernsey County Foundation Endowment Fund Donors
Nancy and Robert Dix, Jr.
Grant and Patricia Hafley
Rob Junker
The Stemmer Family Foundation Fund
Maribeth Wright, Ed Wright and Barb Paden in Memory of James and Mary Ellen Wright
Raymond and Charmaine Chorey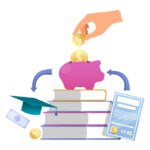 Guernsey County Foundation Founding Donors in 1988
AVC Communications
Colegate-Palmolive
Community Industrial Association
The Daily Jeffersonian
U.S. Bank
G.D. Agnew Scholarship Fund
To provide educational support to seniors from Buckeye Trail High School, Cambridge High School and Meadowbrook High School accepted into and attending accredited two-year & four-year institutions and vocational programs.
Antrim Community Cemetery Association Endowment Fund 
To support the charitable, educational and public purposes of Antrim, including maintenance, repair, restoration, preservation, beautification of public areas.
Byesville Rotary Fund
Endowment Fund –Donate
These are scholarships for the Rolling Hills School District seniors going to college. The Byesville Rotary saved money from their annual Scholarship Golf Outing. They continue to deposit regularly to this fund and are happy with its continued growth. The Byesville Rotary holds the Golf Outing each spring to build their fund and offer scholarships.
Cambridge City Schools Alumni and Friends Educational Fund
Scholarship Fund
–Donate
The Cambridge Alumni and Friends Educational Fund is a community-based trust established to receive contributions from individuals, families, small groups, organizations and businesses for the purpose of promoting academic excellence and enhancing the educational experience of all Cambridge City School students through classroom enrichment. Contributions shall be donation and/or property that are placed in trust. Classroom enrichment shall include academic and fine arts activities selected by the designated committee of the Cambridge Alumni and Friends Educational Fund trustees. The board of trustees that governs the fund and its policies include Cambridge alumni, community leaders and representatives and friends of the Cambridge City schools. All contributions to the fund are tax deductible. As contributions accumulate year after year, the fund will continue to grow and serve Cambridge's students and educators in future years. The fund provides a vehicle for alumni, friends and supporters of academic excellence for the Cambridge City Schools to provide a contribution outside of the traditional funding sources to enrich and enhance the educational experience of students in the Cambridge City School District.
Cambridge Singers Scholarship Fund
Endowed Scholarship Fund
–Donate
The Cambridge Singers, founded in 1964, is a mixed chorus centered in Cambridge, OH. Its goal is to play a vital role in the community's performing arts offerings with an emphasis on vocal music. Since 1983, the Cambridge Singers have encouraged local youths to pursue music as a career by awarding at least one college scholarship annually. This scholarship is awarded to a declared music major and is currently based on proceeds from the Spring Show and Annual Patron Drive. In 2007, the Cambridge Singers board of directors voted to join the FAO to assure that its name and scholarship legacy live on. Shortly thereafter, however, the stock market plummeted downward and the economic recession began. The board to date has decided to wait for economic recovery before awarding its first scholarship rather than delve into its principal investment.
The Charles E. Chippi Scholarship Fund annually provides scholarship opportunities for graduating Guernsey County high school seniors pursuing post-secondary studies in education. Chuck was a retired school administrator having served 42 years with several local school districts:  Rolling Hills, Cambridge and Shenandoah.  A 1953 graduate of Valley Local High School, he received his bachelor's degree from Ohio University and later earned his Master's in Education from WVU. He was born and raised in Derwent, Ohio. Chuck was a member of the St. Michael's Byzantine Catholic Church, Ohio Teachers Association, Atwood Bass Anglers, Rolling Hills Hall of Fame, and Buffalo Alumni Hall of Fame. He also volunteered his time and talents at Southeastern Ohio Regional Medical Center and was on the board of the Guernsey County Senior Center. Chuck wanted to provide a legacy gift through a scholarship to a student wanting to major in education.  
CHS Class of 1957 Scholarship Fund
Scholarship Fund – Donate
These are college scholarships for graduating Cambridge High School students. This fund came to be by various classmates who wanted to pay back for a good education they received at CHS. The fund has provided five $750 scholarships.
Citizens for Rolling Hills Schools Fund
Endowment Fund – Donate
The Citizens for Rolling Hills Schools Endowment Fund was established to ensure students and teachers have access to resources for programs and activities that enhance and enrich their educational experience. The fund makes a tremendous difference by promoting academic excellence and enhancing the educational experience of students and teachers of the Rolling Hills School System.
Our fund will work to provide all Rolling Hills students with the opportunites needed to succeed in our changing world. Gifts to the fund are placed in a permanent endowment account with FAO and governed by a committee of alumni, community leaders, retired educators and friends of the school.
The Rolling Hills School Fund provides a permanent vehicle for alumni, friends and supporters of academic excellence to provide contributions outside traitional funding sources to ensure Rolling Hils students and teachers have access to a permanent resource for enriching educational programs and activities. All contributions are fully tax deductible.
Jenny Cornelius-Woltz Memorial Scholarship Fund
Scholarship Fund – Donate
A fund to honor the life and memory of Jenny Cornelius-Woltz by providing scholarship awards to deserving students gradutating from John Glenn High School with an interest in nursing.